---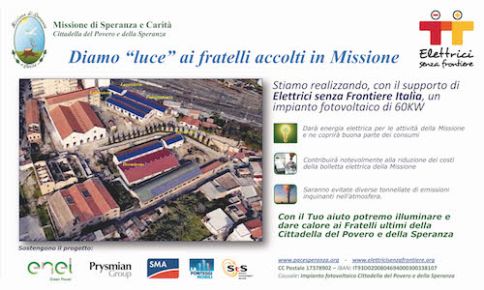 13.09.2018
POPE FRANCIS IN PALERMO: HIS VISIT TO THE "HOPE AND CHARITY MISSION"
Pope Francis will be in Palermo on 15th September and on this occasion will visit the "Hope and Charity Mission", enjoying a meal in the refectory together with the people who are welcomed there. The "Hope and Charity" Mission, set up in 1991 by the lay missionary Biagio Conte under the arches of Palermo Central Station, helps and welcomes 900 people on average thanks to a network of 400 volunteers. ESF Italy wanted to make a contribution to the Mission, collaborating actively and technically in the implementation of a new 60 kwp solar photovoltaic plant to be installed on certain pitches of the roofs of the complex. The 90,000 kWh of energy produced will be used to power the kitchen, oven, laundry and craft workshops. It will be an important support, given the high costs of the energy supply, which considerably affect the management of the activities.
The Mission represents a point of reference for the whole Sicilian capital because it is aimed at returning dignity to those who find themselves on the margins of society. By means of the large amount of work volunteered by craftsmen and freelancers, people are given the chance to learn a trade, providing them with new tools to help them reintegrate in society. Training workshops help them to become carpenters, blacksmiths and welders, cobblers, printers, bricklayers, cooks, tailors and bread makers but also potters, painters and sculptors.
The Mission has three communities: the "Hope and Charity Mission" which welcomes 130 men living on the street, "Women's shelter" which welcomes 120 women including mothers with babies and the "Citadel of the Poor and of Hope" open to 700 refugees from Africa and Asia.
Another important initiative is "the Night Mission", an evening meeting with homeless people who live on the street, when volunteers give them comfort and essential goods. In the Mission there is also a canteen which can supply 1200 meals a day and a dentist's surgery which welcomes all poor people, whether from the mission or outside, who cannot afford treatment.
The occasion of 15th September will be important for reflecting on social emergencies, identifying and sharing resources, creating new opportunities for development and planning strategies for action and integrated and participative projects. These principles are widely shared by ESF Italy which, to make the plant, is drawing up an operation plan with the collection of the main components and materials needed to carry out the project, working through requests for donations from qualified suppliers and people, organisations and private citizens.